"Weirdmageddon 3: Take Back The Falls"[2] is the 20th episode of the second season of Gravity Falls and the fortieth episode overall. It premiered February 15, 2016 at 7:00 p.m.[2]
This is the third and final episode in the Weirdmageddon story arc,[3] as well as the hour-long series finale.[2]
Official overview
Ford discovers Bill Cipher's true motives, and then a final confrontation with Bill leads to the Pines family's ultimate fate and greatest sacrifice.[2]
Synopsis
*In progress.*
Credits
With the Voice Talents of
Production notes
See also: List of allusions and List of goofs.
Character revelations
Series continuity
Trivia
This episode uses a different version of the Weirdmageddon theme song, by using the 1st version of the intro, and with 8-Ball, Teeth, Keyhole and Hectorgon being replaced with Dipper, Mabel and Stan.[5]
Dipper says "Ready to the head into the Unknown", which is the hommage of Over the Garden Wall's ninth episode "Into the Unknown".
Cryptograms
"4-19-10 5-25-11-22-9-12-5 8-12-23-21-19-20 23-6-9-3-10-20 23 1-16-19-19-12 16-23-10-20 15-10 16-23-10-20 4-16-19-25'12-12 22-9-10-20 4-16-19 5-19-23-12 22-3-4 22-6-19-23-13 4-16-19 21-16-23-15-10, 23-10-20 8-23-25 4-16-19 21-9-5-4 4-16-19 8-6-9-8-16-19-21-25 1-15-12-12 23-12-12 22-19 12-9-5-4" uses the combined cipher (A1Z26, atbash, then caesar). It translates to: TEN SYMBOLS PLACED AROUND A WHEEL HAND IN HAND THEY'LL BOND THE SEAL BUT BREAK THE CHAIN, AND PAY THE COST THE PROPHECY WILL ALL BE LOST.
"18-23-20-19-20 8-15-21-4-3-6-19-5 22-12-19-23-21-16-19-20 22-25 5-3-10 4-16-19 4-23-12-19'5 4-9-12-20, 4-16-19 5-3-11-11-19-6'5 20-9-10-19 15-10 11-19-11-9-6-15-19-5 4-16-19 8-15-10-19-5 5-4-15-12-12 8-12-23-25 9-10 23 5-3-10-10-25 5-3-11-11-19-6'5 20-23-25" uses a combined cipher (A1Z26, atbash, then caesar). translates to: FADED PICTURES BLEACHED BY SUN THE TALE'S TOLD, THE SUMMER'S DONE IN MEMORIES THE PINES STILL PLAY ON A SUNNY SUMMER'S DAY.
Bill says in reverse in the burning scene, "X-O-L-O-T-L MY TIME HAS COME TO BURN, I ENVOKE THE ANCIENT POWER THAT I MAY RETURN"
Gallery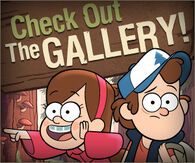 Click here to view this page's gallery.
Community content is available under
CC-BY-SA
unless otherwise noted.