BEWARB! Spoilers ahead!
This article contains significant plot details from an episode that has not yet aired.
"Weirdmageddon 3: Take Back The Falls"[2] is the 20th episode of the second season of Gravity Falls and the fortieth episode overall. It is set to premiere in 2016 and will also be the third and final episode in the Weirdmageddon story arc[3] as well as the one-hour long series finale.[2][1]
Official overview
Synopsis
Credits
With the Voice Talents of
Production notes
See also: List of allusions and List of goofs.
Character revelations
Series continuity
Trivia
This episode uses a shortened version of the Weirdmageddon theme song.[4]
Thurop Van Orman, the voice actor for Gideon Gleeful, posted on his Twitter that recorded his voice for this episode.[5]
Cryptograms
TBA
Gallery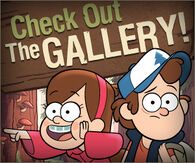 Click here to view this page's gallery.
References
↑ 1.0 1.1 Mitovich, Matt Webb (2015-11-20). Gravity Falls to end in 2016. TVLine. Retrieved on November 20, 2015.
↑ 2.0 2.1 Hirsch, Alex. Goodbye Gravity Falls (Tumblr post). Archived from the original on November 21, 2015. Retrieved on November 21, 2015. "There are two more episodes left: 'Weirdmageddon II: Escape from Reality' and 'Weirdmageddon III' which will be our hour long series finale."
↑ Greene, Jamie (October 23, 2015). Weirdmageddon Descends on 'Gravity Falls'. Archived from the original on October 24, 2015. Retrieved on October 24, 2015. "... Weirdmageddon is a massive, multipart mini-movie that rounds out and finishes Season 2..."