Check out the winning menu for this month's Food Fiction!
Contest
Hey Gravity Falls fans!
Two years ago, we on the Wikia Staff saw Gravity Falls community rally hard around Pitt Cola in the Fictional Food Fight, and this past year, we saw you all take Smile Dip to victory in the Battle of the Fantasy Foods.
So, even though we (The Wikia Staff) did a Create a Grub Menu for Gravity Falls last March, we wanted to give Gravity Falls another moment in the spotlight especially after y'all won the 2014 Battle Of The Fantasy Foods! From Overly Sensitive Owl Cereal to Chipackerz, we're asking you the fans of the show to nominate and vote on which foods are the best foods from Gravity Falls so we can create The Ultimate Gravity Falls Menu.
Here's how it works:

1. You must be logged into your Wikia account. Don't have an account? No problem! Create an account here!
2. Create an original menu, including a food, dish or beverage in each of the following categories: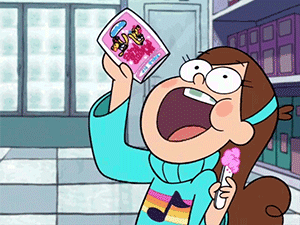 Main Dishes
Snack Food
Sugary Goodness
Beverages
Weird Things Mabel Eats

3. Post your menu in the comments below. Remember, we're looking to select the most iconic and fun food items in each category. If you're trying to remember which foods have appeared in Gravity Falls, EvergreenFir helped compile on this discussion thread about the Food Fiction idea, though it may be a little out-dated.
Here is my example menu:

4. We will accept entries until July 22. I will select the most-nominated entries to be part of a poll for each category. We'll post the the post with the polls on the Recipes Wikia for everyone to vote. Polls will close on July 31, and we will then post the winning menu!
We're so excited to see what you all come up with. Happy nominating!
Community content is available under
CC-BY-SA
unless otherwise noted.