Okay I know everyone is wondering about that Pyramid with a Top Hat and a Bow Tie. And I think I have some answers.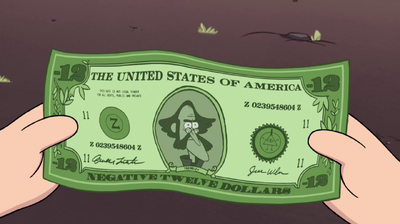 In this picture if you look in the circle on the left you can see the Pyramid with a top hat. This dollar was made by Quentin Trembley III, who is also the town founder and can be the writer of the book. He did make the clues to his hideout, but he is silly and the book is serious, so I am thinking his son wrote the book and everything. So he may have been the opposite of Quentin. He was hidden from fact that his dad was the founder, and probably never knew. Also one of the cyrptograms was E. Pluribus Tremley so that could be the name of his son.
Also there have been other appearances.
-An arcade machine in Fight Fighters.
-A page in Book 3.
-On the back of the card in The Time Traveler's Pig.
The only problem is that the Pyramid does not have a bowtie.
Anyone can tell me their ideas and I might put it up on here. Those are just theories don't hate on me because of that.
Community content is available under
CC-BY-SA
unless otherwise noted.