Hi! I love Gravity Falls and I computer edit and draw.  And I've been on other wiki's before. :D I also watch Adventure Time and The Simpsons X)!
Signature
[[File:S1e6 oh my....gif|100px]]SBM, WMD, LCB[[File:S1e19 Bill before using powers.jpg|140px]] 18:07, July 23, 2013 (UTC)
Favorite Gravity Fall Characters (Not in order)
Xyler and Craz[[File:Mabel_Laughing_(Llama).png|thumb|Mabel]]
Top 5 Gravity Fall Episodes
1.
Dreamscaperers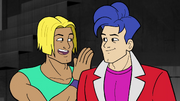 Favorite Quotes (Gravity Falls)
"Remember folks, we put the FUN in 'No Refunds!'"
—Stan Pines
"C'mon, guys, nobody even uses millimeters. It would only make you taller than me in Canada."
—Dipper
(Btw I am Canadian)
"Do you have this in a different animal?"
—Tyler
"Am I a man? Am I a baby? These are legitimate questions."
—Soos
Community content is available under
CC-BY-SA
unless otherwise noted.