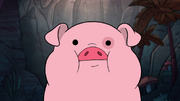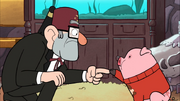 Hai there! Did you happen to stumble upon my profile page,
<insert name here>
? 
There's not much about me. Um... I have a lot of friends here on Gravity Falls Wiki. One of them includes Mabel43201. If it wasn't for her, I wouldn't even be on this wiki because she found it and told me to make an account. We are currently making Dipper's 3 book, and writing fanfictions together (mostly about Gravity Falls.) cx My nicknames on chat are 33, Dip3, and Dipper33, apparently (but you can call me whatever name floats your boat). Some other friends of mine on Gravity Falls Wiki are TitanicMixGirl, AlisonBlue123, Gleekgirljerks, Glitter Gurl, Owen Lover, Jrsushilover7, and some other awesome people. Now thanks to Mabel43201, I'm in love with the Percy Jackson and the Olympians series, and The Kane Chronicles series. Carter Kane is my favorite, and I named my OC after him. xP My favorite character from Gravity Falls is Dipper Pines :D (if you can't already tell.)
Some hobbies of mine include reading, hanging out with friends (when we actually have something fun to do,) writing fanfictions, and riding horses. I will be popping up on chat here and there, so if you happen to catch me online, feel free to chat. (I like meeting new people.) Anyway, Gravity Falls is my number one favorite show along with Avatar The Last Airbender. I try to make everything related to Gravity Falls as much as I can. For example, I used a Dipper reference in one of my essays at school. I also try to draw Gravity Falls characters to hang around my room, but then it just fails so I just make Mabel43201 draw for me. cx We made our first fan made Gravity Falls episode together (which can be found in mine or Mabel43201's blog.) We've also made a Gravity Falls game show to pass the time one day (which is also located in my blog.) For Halloween, I was Dipper and she was Mabel, which was fun but made our legs tired from running around after. :P Peace out!
Community content is available under
CC-BY-SA
unless otherwise noted.