The unnamed old woman is a minor character in the Gravity Falls series. She is one of Gideon's fans[2].
History
In "Tourist Trapped," she appears as a tourist at the Mystery Shack. Stan Pines is shown giving her and the rest of the tourists a tour of the museum.
In "Headhunters," she is seen at the re-opening of the Gravity Falls wax museum. Her picture is later shown on Dipper's suspects board.
In "The Hand That Rocks the Mabel," when Lil' Gideon throws his cape into the audience, the old woman is seen attacking the woman who caught it with her walker.
She celebrates Pioneer Day in "Irrational Treasure," engaging in activities like candle dipping and attending the opening ceremonies. She also gets her purse stolen, but the police ignore this.
In "The Deep End," she is seen sitting on a floatie at the local pool.
In "Sock Opera", she is seen working at Shop Thrifty.
In "Soos and the Real Girl," the woman can be seen riding an escalator in the Gravity Falls Mall.
Personality
Though not much is known about her personality, she seems to appear grumpy most of the time. She has gargantuan strength, as seen in "Headhunters." In "Irrational Treasure," she is shown to be happy and smile a lot.
Appearance
She's an elderly woman, very short in stature and rather stout. She has long, gray hair, and wears a pair of thick, full-moon like glasses. She dresses in fairly simple attire, wearing a short-sleeved purple shirt and gray pants. She also carries a cane to aid her in moving around.
Sightings
Gallery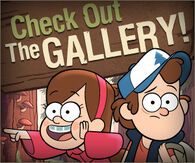 Click here to view this page's gallery.
Community content is available under
CC-BY-SA
unless otherwise noted.