The librarian is a resident of Gravity Falls who works at the Gravity Falls Library.[1]
History
The woman first appears in "The Hand That Rocks the Mabel." When Mabel struggles to accept Gideon's date, she mentions to a doctor that she will "die of sadness" if she declines, to which the doctor verifies will occur.
She also appears in "Gideon Rises," among the crowd who discovers Gideon has been eavesdropping on the townsfolk.
in "Scary-oke," she attends the "Mystery Shack is Back" party.
In "Sock Opera," she is seen at the local library.
In "Soos and the Real Girl," she is seen at the Mystery Shack, looking at a postcard.
Appearance
She is an elderly woman with light-skin and wrinkles, curly grey hair, large ears, and a large nose. She wears an emerald green dress with a collar and gold-colored stud earrings.
Sightings
Gallery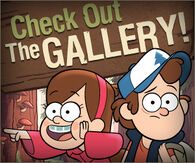 Click here to view this page's gallery.
References