The blue sweatshirt woman is a resident of Gravity Falls, Oregon.
History
Season 1
In "Gideon Rises," she is seen among the crowd as Gideon announced his plans for the former Mystery Shack. Later, she is seen disappointed alongside other townsfolk at Gideon who was revealed to be a fraud.
Shorts
In "Lefty," she is seen on an escalator at Gravity Malls.
In "Mabel's Scrapbook: Heist Movie," she is seen in the audience for Pony Heist.
Season 2
In "Sock Opera," she is seen in the audience during Mabel's sock puppet show.
In "Soos and the Real Girl," she is seen shopping at Gravity Malls.
In "Little Gift Shop of Horrors," she is seen running the "Pots Aplenty" booth at the Gravity Falls Swap Meet.
In "The Love God," she is at the Woodstick festival.
In "Northwest Mansion Mystery," she is seen sitting at a table with the Unnamed fanny pack man at the Northwest Fest after Pacifica lets the common folk in.
Appearance
She is a dark-skinned woman with shoulder-length brown hair. She wears a light blue hooded sweatshirt, medium blue sweatpants, and gold-colored stud earrings.
Sightings
Gallery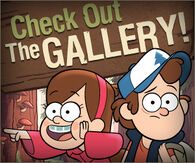 Click here to view this page's gallery.