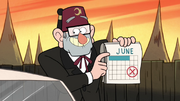 Accually, yes. This image from Summerween shows the month of June, which matches the Sun-Sat alignment of June 2012, and while it would also match for 2001 and 2007, but neither fits due to the technology depicted, the cell phones in particular, and Alex Hirsch has also made comments that the show does take place in 2012. Given the show's efforts to maintain continuity, I'm inclined to think they have (most) of this planned out to some degree, although the waning moon (depicted in a way that doesn't acually occur in nature) does indicate they either make mistakes or don't have things planned out, but given that Sherlock couldn't be moving around if it really was waning and it's background depiction instead of the establishing shot of the first moon, I'd call it an error.
Community content is available under
CC-BY-SA
unless otherwise noted.