The Crawlspace is a paranormal black market located under Gravity Falls, Oregon. Dipper Pines and Pacifica Northwest visit it during the events of the Gravity Falls: Lost Legends story, "Face It".
History
Ford Pines wrote in Journal 1 about attempting to locate the Crawlspace for years, but failed.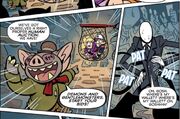 In the present, after Mr. What's-His-Face steals Mabel's face and flees, Dipper and Pacifica give chase. As they follow the monster. Mr. What's-His-Face is able to access the door by teleporting into the market, but Dipper and Pacifica are stopped when the door leads to a brick wall. Dipper then uses the President's Key to reopen the doorway to the Crawlspace. Dipper concludes that this is where Gravity Falls' weirdness hides during the day. They quickly find out that they are the first humans to enter the market alive, and they tried to hide their identities while they search for Mr. What's-His-Face. After Dipper accidentally blows their cover, they are put up for auction by the other monsters, with Mr. What's-His-Face winning the bid and taking them to the place where he keeps his stolen face collection.
Notable Creatures
There are many creatures seen selling things and hiding in the Crawlspace.
Trivia
Toby Determined can be seen in the Crawlspace, purchasing a handsome man face from Mr. What's-His-Face.
Blind Ivan's face can be seen on the outside of Mr. What's-His-Face's bag. He still has the marker drawings on his forehead that Mabel drew in the events of Society Of The Blind Eye, meaning that the events of "Face It" must take place sometime after the events of the episode.
A creature looking like Pinhead from the movie Hellraiser can be seen in a crowd of creatures when they heard Dipper saying the word "human."
A silhouette shaped like Eda from The Owl House can be seen in one of the wanted posters.
Eda's Owl Staff can be seen among other staffs in a cart being pulled by a green creature over a stone arch in a scene where a big burly monster compliments Bandit Jackie (Pacifica Northwest).

A creature looking like Cousin Itt from Addams Family can also be seen.

Along the repressed memories that the member of the blind eye is selling, it can be seen the memories of different characters.
There is a sign pointing towards the Black Lodge, a location in the show Twin Peaks.
Notable Items sold in the market are disembodied hands, various limbs, faces, nightmare fuel, fake beauty pills, and memory tubes.
References