Content posted on this page is to only be about improving the article itself.


For all other types of discussion, please post them in the forums.
This includes (but not limited to) theories, discussion about how great someone is, fanon stories, etc. You have been warned.
Please remember to sign your comments with ~~~~ (four tildes).
Name
I'm confused, so this article was originally Manly Dan, right? But then someone changed it to Manley Dan, saying somewhere it was official that Manley was his first name, Dan was his last. But is Manly the correct spelling of his first name, and not Manley? Or is Manly an adjective the same way Lazy Susan is, where Lazy isn't her first name? :o Brittanylee 20:49, July 24, 2012 (UTC)
This forum post should explain some of the confusion.  EvergreenFir  20:51, July 24, 2012 (UTC)
Dude
I had no idea this was Wendy's dad. Do we know which episodes make this connection clear? It seems very subtle. +Yc 06:07, May 10, 2013 (UTC)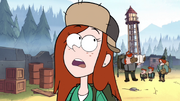 We'd already known about it due to the press release that came out with Gravity Falls when it initially premiered, but we've seen the picture of Wendy's brothers in episode 7 which we knew were Dan's sons from episode 2. And In episode 10 Wendy comes back camping with her dad and brothers. There are a couple more clues in the show tho. Also, yeah, it is kinda subtle, huh? :)

YazzyDream

★
Translated name
It should be added as trivia that his name in the Romanian version of the show is "Sexy Dan". Said out loud, like that.
No, this is not my signature. 23:29, August 14, 2013 (UTC) —Preceding unsigned comment added by Steve Greg (wall • contribs)
Is anyone else seeing this? Someone changed it to be something about "lumpy space princess." I tried everything I know to fix it, but as far as I know, it's only on my end. Is anyone else noticing this/fixing this?
Enderfiretheanimusdragon (talk) 17:54, June 12, 2019 (UTC)
Community content is available under
CC-BY-SA
unless otherwise noted.