Content posted on this page is to only be about improving the article itself.


For all other types of discussion, please post them in the forums.
This includes (but not limited to) theories, discussion about how great someone is, fanon stories, etc. You have been warned.
Please remember to sign your comments with ~~~~ (four tildes).
Trivia
Is it alright if i put that Alex Hirsch gave Mabel a pet pig because its always what his sister wanted? Rachin123 (talk) 16:11, October 16, 2014 (UTC)Rachin123
Is that not already on there? I think it's on Mabel's trivia already, but if not, you can add it. "It's in the name, son!: "Be Natural!" 02:37, October 17, 2014 (UTC)
Interview
There's a new Q&A WorldScreen did with Alex Hirsch; is it alright if I add that to the list of interviews? The ones already on there all seem pretty specific, so I'm a bit worried if something such as a Q&A isn't allowed.
The inteview is here: http://www.worldscreen.com/articles/display/2015-08-14-kid-gravityfalls-alexhirsch-disneyxd   Raineh-chan (talk) 23:53, August 14, 2015 (UTC)
I read the interview. It doesn't really have anything new that's worth adding. OnlyOnTuesdays88 talk 23:59, August 14, 2015 (UTC)
Possible Alex cameo?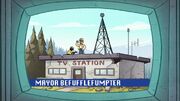 Not sure if anyone else noticed this, but in DD&MD, did Alex have a cameo as the construction guy waving from the top of the TV station that was hit with a wrecking ball? And if it is him, is it okay for me to add this cameo to the list in his trivia section? AstroPhantom (talk) 22:13, December 27, 2015 (UTC)
Community content is available under
CC-BY-SA
unless otherwise noted.