Jurassic World: Dominion Dominates Fandom Wikis - The Loop
Play Sound
This page is for Summerween (event), the holiday. For the episode, see Summerween.
Summerween is an annual holiday celebrated only in Gravity Falls, Oregon on June 22nd or the second to last Friday of the month. It is celebrated because the residents of Gravity Falls love Halloween so much that they celebrate it twice a year. They use jack-o'-melons instead of jack-o-lanterns, since pumpkins are not ripe during the summer. There is a local legend that tells of a mysterious creature known as the Summerween Trickster, who goes around eating children who lack the "Summerween spirit."
Summerween Activities
Everyone in Gravity Falls celebrates the holiday nearly identically to Halloween. They light up their jack-o-melons and dress in costumes, and then they give out the candy to trick-or-treaters. When Summerween is over, the jack-o-melons' lights are put out.
History
Mabel and Dipper are very excited to go for their supposed last year trick-or-treating, but Wendy invites Dipper to Tambry's Summerween party and he says he isn't trick-or-treating so he can hang out with her. Mabel, Dipper, Soos, Candy, and Grenda are then visited by the Summerween Trickster and have to collect 500 pieces of candy by the time the last jack-o-melon went out, or else the Trickster would eat them.
Dipper refuses to go trick-or-treating because he is "sick." This is actually an excuse to go to a party with Wendy. But due to an event with the Summerween Trickster, Mabel, Candy, Soos, and Grenda, Dipper decides to help. Though Dipper at first refuses to wear his costume, after a while, Mabel convinces him to put on his costume and get the most candy. Dipper wears a peanut butter costume and Mabel wears a jam costume. After the group collects 499 pieces, Mabel overhears Dipper talking to Wendy about the party and realizes that he was planning on going to it. She is very upset with him and doesn't talk to him.
Dipper puts the wheelbarrow behind some bushes, unknowingly letting it fall into the creek behind the bushes. The trickster chases the trick or treaters to the Summerween Superstore and eats Soos. Soos unknowingly eats the Summerween Trickster from the inside, shortly after it was revealed that the Summerween Trickster is made up of unwanted candy.
Afterwards, everyone goes back to the Mystery Shack to spend the rest of Summerween together.
Sightings
Gallery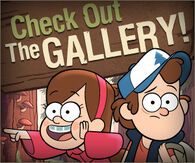 Click here to view this page's gallery.