All animation is black magic.
This article contains information on a subject that is not considered canon in the Gravity Falls universe.
Shimmery Twinkleheart is the protagonist of Believe in Yourself, one of Mabel's favorite television series.
History
In the "Little Gift Shop of Horrors" story, "Clay Day," when Mabel battles the clay monsters, she molds one of them to create Shimmery to help defeat the other Clay monsters. He was also seen in a recent promo for Weirdmageddon 2: Escape From Reality. In the promo, he is pictured in a kaleidoscope-like image along with Aoshima.
Personality
Shimmery only has one line in the episode, but it is easy to realize that he has the personality of a young children's television protagonist: hopeful, cheery, and always trying to teach a lesson about believing in yourself.
Appearance
Shimmery Twinkleheart has the body of a yellow star with big eyes. He wears pink shorts with a big red bow tied to them, pink heart-shaped sunglasses above his eyes, and a pink baseball cap.
Sightings
Gallery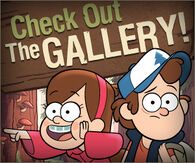 Click here to view this page's gallery.
Community content is available under
CC-BY-SA
unless otherwise noted.