Jurassic World: Dominion Dominates Fandom Wikis - The Loop
Play Sound
The first season of Gravity Falls officially premiered on June 29th, 2012, but the first episode aired as a sneak peek, on June 15th, 2012. The season consisted of 20 episodes.[1]
Twin brother and sister Dipper and Mabel Pines are in for an unexpected adventure when they spend the summer with their great-uncle in the mysterious town of Gravity Falls, Oregon. Upon their arrival, Dipper and Mabel's huckster great-uncle, also known as Grunkle Stan, enlists the siblings to work at the Mystery Shack, a "fun" tourist trap that overcharges unsuspecting customers, with no pay. Although Dipper and Mabel quickly discover the Mystery Shack itself is a hoax, they sense there is something strange about their new town and together they begin to unlock the secrets of Gravity Falls.
Toward the end of the season, when asked if there was anything he regretted or would have changed about season 1, Alex Hirsch answered in the affirmative; saying he would have included more mystery episodes, had less Wendy/Dipper episodes and spaced them out a lot more.[2]
Voice cast
Main cast
Recurring cast
Guest stars
Episodes
See also: Episode guide
No.

#

Title
Airdate
Prod. Code

Viewers

1
1
"Tourist Trapped"

June 15, 2012
618G-107[3]
3.4[4][5]
Young twins Dipper and Mabel Pines arrive to spend their summer break with their Great Uncle Stan, aka Grunkle Stan, in the remote town of Gravity Falls.
2
2
"The Legend of the Gobblewonker"

June 29, 2012
618G-101[6]
3.1[7][8]
When Dipper and Mabel hear rumors that a sea monster lives at the bottom of the local lake, they enlist Soos to take them on a boating expedition to prove it really does exist.
3
3
"Headhunters"

June 30, 2012
618G-103[9]
2.7[10]
When someone tampers with Mabel's life-size wax statue, she and Dipper set out to find the culprit. Meanwhile, Grunkle Stan mourns over the loss of his wax doppelganger.
4
4
"The Hand That Rocks the Mabel"

July 6, 2012
618G-105[11]
3.0[12]
When Grunkle Stan convinces Mabel to go on a date with their seemingly cherubic new neighbor, Gideon Gleeful, to question his authenticity as a psychic, she soon learns that his cuteness can immediately vanish.
5
5
"The Inconveniencing"

July 13, 2012
618G-104[11][13]
3.6[14][15]
When Dipper tries to impress Wendy by acting older than he really is, he's invited to join a group of teenagers on a trek that leads to an old abandoned convenience store rumored to be haunted.
6
6
"Dipper vs. Manliness"

July 20, 2012
618G-106[16]
3.1[17]
In a quest to attain manliness, Dipper ventures into the forest to battle the notorious Multi-Bear. Meanwhile, Mabel tries to teach Grunkle Stan how to become an attractive man to women, particularly, Lazy Susan.
7
7
"Double Dipper"

August 10, 2012
618G-108[18]
4.2[19][20]
When Stan throws a party, Dipper uses an off-kilter copy machine to make clones of himself so he can impress Wendy. Meanwhile, Mabel stands up for her friends, and she fights for the Party Queen title in their honor.
8
8
"Irrational Treasure"

August 17, 2012
618G-110[21]
3.9[22][23]
When Dipper and Mabel discover evidence that the reported town founder is a hoax, they set out to expose the historical cover-up and to prove that Mabel's silliness is not just an embarrassing personality trait.
9
9
"The Time Traveler's Pig"

August 24, 2012
618G-109[13]
4.1[24]
When Dipper wishes he could go back in time and undo a mistake, he discovers that there is a real time machine for his upper advantages. Meanwhile, Mabel wins a pet pig, which she names Waddles, at the fair.
10
10
"Fight Fighters"

September 14, 2012
618G-111[25]
2.9[26]
After being challenged to a video game battle by Wendy's boyfriend Robbie, Dipper is shocked when his favorite playable fighter, Rumble McSkirmish, comes to life to defend him. However, Dipper eventually loses control over Rumble, and he has to find a way to stop Rumble.
11
11
"Little Dipper"

September 28, 2012
618G-102[13]
2.6[27]
Dipper feels self-conscious that Mabel is taller than him, and she is suddenly becoming the alpha twin. So, he seeks out a magical way to grow taller. However, his plan backfires tremendously.
12
12
"Summerween"

October 5, 2012
618G-114[28]
3.5[29]
It's Gravity Falls' version of Halloween in Summer with jack-o'-melons and lots of trick-or-treating. Dipper and Mabel are excited to join in on the fun, but when Wendy casually mentions that trick-or-treating is for kids, Dipper's whole outlook on the evening changes. The night gets even more complicated when a monster that Dipper accidentally insulted makes them fulfill his candy quota by night's end or else he will eat them.
13
13
"Boss Mabel"

February 15, 2013
618G-115[30]
3.5[31]
Stan challenges Mabel to run the Shack when she questions his bossing methods.
14
14
"Bottomless Pit!"

March 1, 2013
618G-113[32]
3.1[33]
While Stan, Dipper, Mabel, and Soos are falling in a bottomless pit, they tell stories to pass the time.
15
15
"The Deep End"

March 15, 2013
618G-112[34]
4.5[35][36]
When Mabel befriends a cute merman trapped in the public pool, she's determined to bust him out.
16
16
"Carpet Diem"

April 5, 2013
618G-117[37]
3.4[38]
The twins discover a hidden room inside the Mystery Shack, and they compete over who should have it.
17
17
"Boyz Crazy"

April 19, 2013
618G-119[39]
3.2[40]
When Mabel discovers that her favorite boy band is actually a bunch of imprisoned clones, she wants to set them free. However, after Mabel becomes attached to all of the band members due to nurturing them, she is unwilling to set them free. Meanwhile, Dipper is convinced that Robbie plans to brainwash Wendy with a secret message hidden inside one of his songs.
18
18
"Land Before Swine"

June 28, 2013
618G-122[41]
3.5[42]
When a prehistoric beast snatches Waddles, the Pines family must journey to a land trapped in time to rescue him.
19
19
"Dreamscaperers"

July 12, 2013
618G-120[43]
2.7[44]
Dipper, Mabel and Soos must travel through Grunkle Stan's mind to defeat a tricky dream demon summoned by Gideon Gleeful.
20
20
"Gideon Rises"

August 2, 2013
618G-121[45]
3.2[46]
Pint-sized huckster Gideon Gleeful has swindled the Mystery Shack away, forcing Dipper, Mabel and Grunkle Stan to move in with dimwitted Soos and his grandmother. When Stan weighs whether he can still take care of his grandniece and grandnephew, Mabel and Dipper decide to take on Gideon.[47]
Production
The series, created, directed and executive-produced by 2007 California Institute of the Arts (CalArts) graduate Alex Hirsch (Fish Hooks, The Marvelous Misadventures of Flapjack), is a production of Disney Television Animation. Set in the Pacific Northwest woods of Oregon, the animated series features supernatural elements of adventure and mystery, inspired by the real-life summer trips shared by Hirsch and his twin sister while visiting relatives as kids.
Alex Hirsch has provided conflicting information regarding the number of episodes in the first season. On August 8, 2012, he said there would be 21 episodes.[48] However, on July 7, 2013, he implied there are only 20 episodes as "Dreamscaperers" is the 19th episode.[1] On July 8, 2013, he confirmed his original statement of 21 episodes was incorrect.[49]
Distribution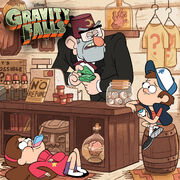 The first season is available on iTunes on two volumes in SD/HD. Episodes were released within a week of the episode's premiere on Disney Channel. The exception being "Boyz Crazy" which was accidentally released under the title for "Carpet Diem" days before it actually aired. The same mix-up was included in "Disney Channel Freaky Freakend" compilation package, both mistakes were later fixed. "Summerween" was also released in "Disney Channel Monstober, Vol. 2," and later the short, "Candy Monster" was released under "Monstober, Vol. 3." Vol. 1 of Gravity Falls consists of the first 10 episodes,[50] and vol 2. consists of the last 10 episodes.[51] The first episode, "Tourist Trapped" was available for free download on iTunes, for a brief period of time during the show's initial premiere, and in January 2013 was chosen for Starbucks "Pick of the Week."[52] The episodes are also available on Youtube and Amazon, and volume 2 is available on Google Play.
The first six episodes are available on DVD in Gravity Falls: Six Strange Tales. The next eight episodes are available on in the second DVD, Gravity Falls: Even Stranger (which was released on August 26, 2014).[53]
Alex Hirsch has lamented and requested a full DVD/Blu-ray with episode commentary and extras to Disney, but was told it would be too expensive. A full DVD set could only be possibly made depending on how well the other DVDs sell, the number of people who go to the Disney Store and the request for Gravity Falls merchandise, and how well the series does in ratings.[54]
See also
References