Wiki Targeted (Entertainment)
Play Sound
Reginald is Rosanna's boyfriend and a resident of Gravity Falls, Oregon.
History
Season 1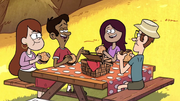 Reginald is first seen eating at a picnic table in the beginning of "Tourist Trapped," with Rosanna and two others sitting at the same table.
Reginald is formally introduced in "The Legend of the Gobblewonker." He tries to propose to Rosanna while the two are fishing together. However, the proposal is interrupted by Stan, who bothers them with his pessimistic jokes and views about marriage.
He and Rosanna are seen angrily leaving the re-opening of the Wax Museum of Mystery in "Headhunters."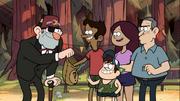 In "The Hand That Rocks the Mabel," he and Rosanna are both seen putting money into Stan's "Sack of Mystery," and then later seen walking to the Tent of Telepathy and watching Gideon's show, where Rosanna catches Gideon's cape when he throws it to the audience. They are also seen eating at the restaurant where Gideon and Mabel are having their date.
In "The Time Traveler's Pig," Reginald and Rosanna appear in the background at the Mystery Fair. They are also seen going into the "Tunnel of Love and Corn Dogs."
In "Fight Fighters," Reginald plays pinball at the Arcade.
In "Little Dipper," Reginald can again be seen at Bud Gleeful's car dealership among several other customers, wanting to buy a car.
In "The Deep End," he is at the town pool.
In "Gideon Rises," Reginald is among the townspeople who go to investigate the Gideon-bot's explosion, and witnesses Stan unmask Gideon as a fraud.
Season 2
In "Scary-oke," he attends the "Mystery Shack is Back" party.
In "Weirdmageddon 2: Escape From Reality" he is stacked in Bill's Throne.
In "Weirdmageddon 3: Take Back The Falls" he is in seen in the throne again, though he is saved when Dipper collapses the throne.
Sightings
Gallery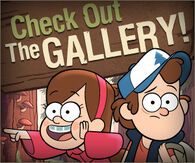 Click here to view this page's gallery.
References
↑ "Fight Fighters." Zach Paez, Alex Hirsch (writers) & John Aoshima (director). Gravity Falls. Disney Channel. September 14, 2012. No. 10, season 1
↑ "Gideon Rises." Matt Chapman, Michael Rianda, Alex Hirsch (writers) & John Aoshima, Joe Pitt (directors). Gravity Falls. Disney Channel. August 2, 2013. No. 20, season 1
↑ "The Legend of the Gobblewonker." Michael Rianda, Alex Hirsch (writers) & John Aoshima (director). Gravity Falls. Disney Channel. June 29, 2012. No. 2, season 1