The old man is an unnamed background character in the series. He is the grandfather of the Dipper and Mabel lookalikes.
History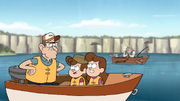 He debuts in "The Legend of the Gobblewonker", fishing with his grandchildren. When his granson asks him to tell him and his sister more stories, the man gladly agrees, which angers a jealous Grunkle Stan into mocking the family. This upsets the old man and causes him to confront Stan, and the Dipper lookalike suggests that Stan's motives are rooted in "having no one who loves him." All of a sudden, Dipper, Mabel and Soos drive their boat through, and Old Man McGucket's gobblewonker robot chases after, causing a tremendous splash that soaks Stan, the old man and the lookalikes.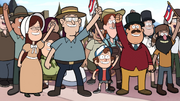 In "The Hand That Rocks the Mabel," he puts money into Stan's Sack of Mystery and later attends one of 'Lil Gideon's shows at the Tent of Telepathy. In "Irrational Treasure," he can be seen at the Pioneer Day opening ceremony. In "The Time Traveler's Pig," he attends the Mystery Fair and is among the angry attendants who tries to dunk Grunkle Stan.
Personality
He is shown to enjoy spending time with his grandkids, most notably going fishing with them and telling them stories. He likes going to the Mystery Shack and its various events, as well as watching Gideon perform at the Tent of Telepathy and Pioneer Day. He dislikes it when Stan makes fun of him and/or his family and will openly stand up to him when he does this. At times, he can be oblivious.
Appearance
He is fair-skinned, gray-haired and somewhat heavyset. He has a rather large nose, big ears, a pronounced chin and a wrinkled face. His standard outfit consists of glasses, a light blue polo shirt, jeans and black shoes.
Sightings
References
References
Community content is available under
CC-BY-SA
unless otherwise noted.