PinesQuest was a role playing game that took place after the events of Rumble's Revenge.
It is no longer available due to Flash being out of date, and a broken link. However, you can still play it if you have Flash or another program that can open SWF files, and Internet Archive has the link saved here.
Story
Story continues from Rumble's Revenge. Dipper and Mabel defeated Rumble, but they are still trapped in a video game. Dipper thinks someone programed this game, just to trap them. They arrive in 8-bit Mystery Shack, but Stan doesn't know he is in a game, and just tells them they are in their imagination. Stan gives several items for the kids to get out and get some fresh air. 
Character appearances
Locations
This is the game's version of the Gravity Falls Forest. It is the main map, or hub area, where the player can access different locations. 
Acts as the item shop and is located at the center of the forest.
The game's version of the Man Cave.
The game's version of the Gnome forest.
Deep Forest
The Deep Forest seen in "Little Dipper," except that there are many Gremloblins found in this version.
Where the battle versus The Programmer takes place.
Items
Cryptograms
Trivia
Gallery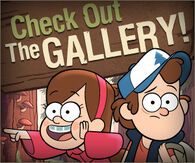 Click here to view this page's gallery.