Pacifica's friends are the cronies of Pacifica Northwest, who are usually seen following their dominant counterpart around and obliging to her every whim.[3]
History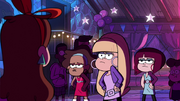 The girls debuted in "Double Dipper" attending the party at the Mystery Shack with Pacifica Northwest as she demands the party crown. They later watch the competition between her and Mabel Pines, rooting for Pacifica the entire time, and come with her to her after-party[4].
They are briefly seen in "Irrational Treasure" when Pacifica orders them to remove the Mabel lookalike from the ribbon team.
In "The Time Traveler's Pig," they tag along with Pacifica and laugh with her as she teases Mabel.
In "Boyz Crazy," they appear at the Sev'ral Timez concert at the Gravity Falls Civic Center and Buffet. The two girls (along with the rest of the audience) apparently started to fight each other over the boys' affections. This episode was their first speaking role.
Appearance
One has magenta hair in a bob cut and wears a blue short dress with a silver-buckled red belt, black leggings, red hoop earrings, and blue eyeshadow. The other one has puffy, chocolate brown hair, darker skin, and wears a red dress with a light blue belt, white boots, a light blue headband, silver necklace, and red eyeshadow.
Sightings
Gallery
Gallery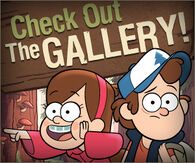 Click here to view this page's gallery.
References
↑ 2.0 2.1 "The Time Traveler's Pig." Aury Wallington, Alex Hirsch (writers) & Joe Pitt, Aaron Springer (directors). Gravity Falls. Disney Channel. August 24, 2012. No. 9, season 1
↑ 3.0 3.1 "Double Dipper." Tim McKeon, Michael Rianda, Alex Hirsch (writers) & Joe Pitt, Aaron Springer (directors). Gravity Falls. Disney Channel. August 10, 2012. No. 7, season 1
↑ "Double Dipper." Tim McKeon, Michael Rianda, Alex Hirsch (writers) & Joe Pitt, Aaron Springer (directors). Gravity Falls. Disney Channel. August 10, 2012. No. 7, season 1