Oddity Creator is the photo mashup game for Gravity Falls.
Objective
The objective of the game is to make your own picture with images of oddities and characters found in the show. This game includes many character designs like Dipper, Mabel, Grunkle Stan, Soos, Robbie, and backgrounds used in the show, in addition to many objects found in the Mystery Shack mostly notably "The World's Most Distracting Object,"[1] a toolbox, the "COOL" ice box[2] and many more. You can also put quote bubbles and frames for the pictures.
Character appearances
Trivia
It is currently unknown why Wendy doesn't appear in this game, though there's a way to unlock her pictures. There is a secret card on the shelf in the living room. Collect it and you will find: "Wendy is not wHo she seems, clearlY, Soos isn't probaBly worrIed about the hIdden puzzLes. ReaLly, Stan doesn't Wake up soon enougH t o notice the 'toY'." If you put them all together, you get WHY, BILL, WHY? Insert the code, then you unlock her.
Gallery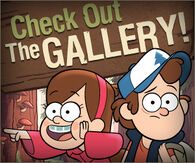 Click here to view this page's gallery.
References