Wiki Targeted (Entertainment)
Play Sound
Mystery Tour 2013 was a 4-day road trip led by Alex Hirsch and the Gravity Falls crew to find "the weirdest tourist traps in Oregon and Northern California."[1]
Details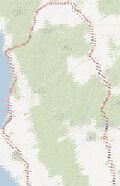 Hirsch and company left behind several drawings of Bill Cipher in various spots, such as telephone poles, signs and trash cans, and released photos of them over Twitter for fans to find. The fans who took a picture of themselves in the same spots received Mystery Prizes.[2]
As of April 16, 2016, all of the drawings have been found. They are/were located somewhere along the road on the left.[3]
Among the places visited include the House of Mystery at the Orgeon Vortex, a Masonic Temple,[4] Trees of Mystery's Paul Bunyan statue which is located along Route 101, the World Famous Grandfather Tree, and One Log House.
Hidden Bill Ciphers
#
Clue
Winner
Prize
1
@egoboystudios[5][6]
2
@kimallyn[7]
Alex Hirsch and Jason Ritter called the winner.[8]
3
@ThePartyLincoln
N/A
4
@ampereHope[9]
N/A
5
@JoeyMSouza[10][11]
6
@thedeetster
N/A
7
@Gag_Reel_Show
N/A
8
@pianoplayer1537[12]
N/A
9
@LauraOfLosAltos
N/A
10
None
Not available because it was eaten.[13]
Trivia
Another photo of the gang at the Oregon Vortex was photographed with a polaroid camera. However, the picture was left at the Oregon Vortex for undisclosed reasons, most likely because the picture was not high quality.
Gallery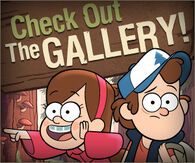 Click here to view this page's gallery.
References