Jurassic World: Dominion Dominates Fandom Wikis - The Loop
Play Sound
Mystery Tour 2013 was a 4-day road trip led by Alex Hirsch and the Gravity Falls crew to find "the weirdest tourist traps in Oregon and Northern California."[1]
Details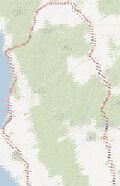 Hirsch and company left behind several drawings of Bill Cipher in various spots, such as telephone poles, signs and trash cans, and released photos of them over Twitter for fans to find. The fans who took a picture of themselves in the same spots received Mystery Prizes.[2]
As of April 16th, 2016, all of the drawings have been found. They are/were located somewhere along the road on the left.[3]
Among the places visited include the House of Mystery at the Orgeon Vortex, a Masonic Temple,[4] Trees of Mystery's Paul Bunyan statue which is located along Route 101, the World Famous Grandfather Tree, and One Log House.
Hidden Bill Ciphers
#
Clue
Winner
Prize
1
@egoboystudios[5][6]


Drawing of egoboystudios by Matt Braly

2
@kimallyn[7]
Alex Hirsch and Jason Ritter called the winner.[8]
3
@wtfanonpencil [9]
No Prize given as Bill was found in 2016 (The Bill is no longer there)




(note: This trip was taken in early 2016 before Bill was found. We came within 30 miles of Bill and had none of the books.)

4
@rhaeme[10]
Prize was never given/yet to be given out. [11]
5
@JoeyMSouza[12][13]


Drawing by Alex Hirsch of him and Joey Souza riding on a Mershaq back while holding hands

6
@thedeetster[14] [15]
No Prize given as Bill was found in 2016 (the Bill has been partially faded)
7
linneac[16]
Drawing Number 7 was originally found in September 2013 by Tumblr user linneac. However, unware of Mystery Tour, they never contacted Alex about it.


No Prize given to either linneac or Gag_Reel_Show (the Bill has severely faded as of 2016)

|
8
@pianoplayer1537[19]
N/A (Unknown if prize was given)
9
@wtfanonpencil [20]
No Prize given as Bill was found in 2016.




(note: This trip was taken in early 2016 before Bill was found. We came within 30 miles of Bill and had none of the books.)

10
None
No Prize given as Bill was eaten
Not available because it was eaten.[21]
Trivia
Another photo of the gang at the Oregon Vortex was photographed with a polaroid camera. However, the picture was left at the Oregon Vortex for undisclosed reasons, most likely because the picture was not high quality.[22]
Bill Cipher 3, 6, 7 and 9 were not found in 2013. They were located in March and April of 2016 respectively.
As it turns out, Bill drawing number 7 was found in September 2013 by a fan named linneac.[23] However, unaware of the trip or the fact Alex Hirsch himself drew the drawing, they never contacted him about it.[24]
The group which found Bill 6 and 7 cataloged the trip on a Tumblr blog called thehuntforbillcipher-blog. [25]

Thehuntforbillcipher team also learned that Alex and the crew had left a Dipper hat at Confusion Hill while on the trip.[26]
As linneac found Bill #7 three years before Thehuntforbillcipher team did, they technically were the first and therefore are owed the Mystery Prize for it from Alex while thehuntforbillcipher team still retains the prize for number 6 as they discovered it on the same trip in 2016.
As of 2021, Bill 3 is no longer visible as the area it was located in has been renovated since.[27] Bill number 9 is also likely no longer around now given the pole it was located on was repainted in 2020. [28]
The fates of Bill 1, 2, 4, 5, 6, 7 and 8 as of 2021 remains unknown, but given the Bills found in 2016 were in poor condition or gone, it is likely many of them are no longer around. [29]
Despite promising to give prizes to every person who found each Bill drawing first, Alex Hirsch only ever gave out 3 prizes for the 9 possible that could have been claimed.
The person who found drawing 4 has yet to receive one and drawing number 8's prize status remains unknown due to the person finding it no longer being online though as Alex never followed up with a prize tweet for them, it is likely they never got one or did privately. Given the final 4 were found in 2016 and long after the trip, it can be determined that Alex likely has forgotten about it and does not even know that the Bill's have been found.
Jeffrey Rowe made a series of 11 gifs of the crew and locations that were visited while on Mystery Tour that are still up on his Tumblr page.[32][33]
External links
Gallery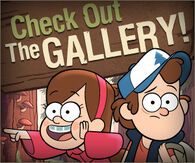 Click here to view this page's gallery.
References