"Mabel's Guide to Dating" is the seventh animated short of Gravity Falls to air between season 1 and season 2. It premiered on February 3, 2014.
Official overview
Mabel gives her thoughts on dating and puts her dating quiz to the test with three of Gravity Falls' most eligible bachelors – Grunkle Stan, Dipper and Soos.[1]
Synopsis
Mabel claims to be a "dating expert," and states that boys can't leave her alone. Then she holds up a cardboard cutout with a face and basketball uniform drawn on it. "He" begs Mabel to "take him back" but Mabel shouts "You know what you did, Zac!" She then announces that she will "test the datability" of some of Gravity Falls' "bachelors," which consists of Dipper, Soos and Grunkle Stan. She gives them a 9,000 question quiz. While they do that, the short cuts to "Animal Dating."
Afterwards, Mabel presents the guys with their scores. Stan got a 3/5, making him "datable." Dipper's score is never revealed but is implied to be bad, although Mabel reassures him that he should just "be himself" to get girls to like him. Soos somehow gets a 12/5, and Mabel labels him a "TOTAL HUNK."
Mabel concludes that if you aren't right for each other, "FORCE IT." The squirrels from "Animal Dating" then attack her and the short ends.
Cast
Production notes
See also: List of allusions and List of goofs.
Songs featured
Series continuity
Mabel's seen wearing several sweaters from past episodes.
Gallery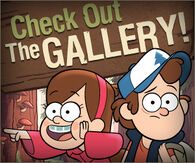 Click here to view this page's gallery.
References