"Mabel's Guide to Art" is the 11th animated short of Gravity Falls to air between season 1 and season 2. It premiered on February 7, 2014.
Official overview
Mabel reveals that her gift of art has driven her to genius level with the creation of her own personal art movement – the "Caticature."[1]
Synopsis
Mabel shows us some of her drawings of Dipper from when she was little. She then shows us her latest idea, a "cat-icature." which is just a drawing of a cat wearing Dipper's pine tree hat. She makes one of Waddles, Stan, Wendy, and Soos. She also draws Toby Determined and he says that it looks just like him. Stan then decides to sell the cat-icatures. Mabel presents her new idea, "Humanicaticature," which is a drawing on the stomach of a real cat, and everyone wants one. The short ends with Mabel being attacked by live cats while she tries to draw on them, the moral being "sometimes you have to suffer for your art."
Cast
Production notes
See also: List of allusions and List of goofs.
Character revelations
Dipper has had his nickname by the time he was five years old.
Series continuity
Trivia
Gallery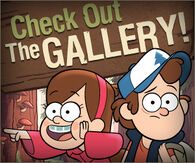 Click here to view this page's gallery.
References