Loser candy is a type of candy that is always found at the bottom of a bag during Summerween. It is largely hated by the residents of Gravity Falls, causing them to refer to it as "loser candy."
History
Season 1
Before the events of "Summerween," the candy is seen being thrown into the city's dump by Jeffy Fresh, Byrone, and Rosie because of its terrible taste.
Years later, the candy is seen again during Summerween night as Stan's choice of treat to give to the local trick-or-treaters. After they leave Dipper tastes one and instantly hates it. He critiques the candy and begins to throw it out the window, unaware that the Summerween Trickster is watching. Later in the episode, when Dipper, Mabel, Candy, Grenda and Soos crash into the Summerween Superstore, the trickster swallows Soos and the kids begin attacking him with weapons.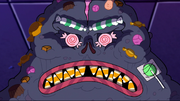 As they attack The Trickster, candy comes out of him. As Dipper wonders how this is possible, the gang is taken by The Trickster who then unmasks himself to them, revealing that he is made out of "loser candy" himself. Instantly after Soos eats his way out of his chest causing The Trickster to scream in pain. After Soos tells him that the "loser candy" he ate tasted good, The Trickster starts to cry tears of joy made out of candy corn and is then devoured further by Soos. 
Shorts
Mabel's and Dipper's leftover Summerween candy is seen in "Candy Monster," when the Candy monster tries to steal their candy. Dipper gets hit by a Blor̈ch bar.
Identified candies
Blor̈ch
Count Discount
Gelatin Product
Gummy Chairs
Homework: The Candy
Mr. Adequate-Bar
Sand Pop!
Sightings
Trivia
The Mr. Adequate-Bar is a parody of the real life candy bar, Mr. Goodbar.