2, part of a series including 3, is a book written by an unknown author and is part of a series of at least three volumes. Both of the two books have a golden hand with 6 fingers on their covers, with the corresponding volume number in the middle. They contain research and information about everything supernatural in Gravity Falls (Volume 2 appears mainly to contain information about magical objects, not unlike a grimoire). It contains a section on the Mystic Amulet, that was formerly possessed by 'Lil Gideon. He is the current owner of the book. It is unknown who the previous owner was.
Appearance
The appearance of 2 is similar to 3's appearance. It is burgundy red, three of the corners are gold, and on the spine of the book, there are two gold lines. In the middle of the cover, there is a gold, 6-fingered hand like on book 3, but with a large "2" on its palm. It appears to be slightly damaged, likely meaning the book has been in existence for a long time.
Contents
Demon Caterpillars
Blood rain
Zombie attack
Sightings
Gallery
Gallery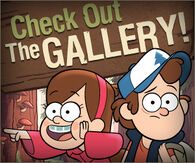 Click here to view this page's gallery.