---
BEWARB! Spoilers ahead!
This site contains SPOILERS! Please consult the guidelines for questions you may have regarding our policies.
Gravity Falls Wiki
Welcome to the Gravity Falls Wiki, a collaborative encyclopedia for everything and anything related to Gravity Falls. Gravity Falls is a Disney Channel animated series. Twin siblings Dipper and Mabel Pines are in for an unexpected adventure when they spend the summer with their great uncle in the mysterious town of Gravity Falls, Oregon. Upon their arrival, Dipper and Mabel's huckster great uncle, Grunkle Stan, enlists the siblings' help in running The Mystery Shack, a tourist trap filled with fake exhibits that overcharges unsuspecting customers. Although Dipper and Mabel quickly discover The Mystery Shack itself is a hoax, they sense there is something strange about their new town and together they begin to unlock the secrets of Gravity Falls. Keep checking this wiki for updates on everything and anything about Gravity Falls!
Recent Blogs

Refresh

So it's the same day that I made my first blog but yeah I'm Bored right now so yeah KK bye.

KK so I have to do school right now but I'm not I'm just doing the sign mints I skipped my music class for this so OK right now what I'm using is I'm just laying on my new bed that we got a couple weeks ago and me and my sister finally got her new bed. Because she moves a lot in her sleep which is …

See more >
Did You Know...
...the word "Piedmont" is on Dipper's duffle bag in the opening credits, which is a reference to where creator Alex Hirsch and his twin sister Ariel Hirsch were born?
...the show is based on Alex and Ariel Hirsch's childhood?
...Dipper is five minutes younger than Mabel?
...'Lil Gideon is on the back of a magazine Dipper is reading in "The Legend of the Gobblewonker"?
...some characters, like Dipper and Mabel, only have four fingers, while others, like Stan and Soos, have five?
...Bigfoot appears in the woods for a split second in the opening credits?
...a sign in the Mystery Shack's kitchen that says Hürzch is a shout-out to creator Alex Hirsch? Or that the television brand Worrel and soda brand Pitt are shout-outs to art director Ian Worrel and director and character designer Joe Pitt?
...Alex Hirsch voices Stan, Soos, Old Man McGucket, all of the gnomes, Quentin Trembley, and many others on the show?
...towards the end of the theme song there's an image of Bill Cipher?
...Alex Hirsch gave Mabel a pig because, as a kid, Ariel always wanted one?
...Mabel was originally conceived as having headgear?
...Soos is based off of Alex Hirsch's college friend, Jesús Chambrot?
...the number 618, a reference to June 18th, Alex and Ariel's birthday, is placed throughout the show?
...Dipper and Mabel's middle names are their parents' first names?
...Ford's middle name is his father's first name?
...Blendin Blandin is in the background of the first three episodes?
...the mug that goes into the portal in "Society of the Blind Eye" comes out of a portal in the Adult Swim series, Rick and Morty?
...Between Seasons 1 and 2, Alex Hirsch posted a fake leak picture depicting Old Man McGucket as the author of the journals?
...the phrase Gideon chants before summoning Bill in "Dreamscaperers," when played backwards, is "Backwards message! Backwards message!"?
...Stan was married for six hours before getting a divorce?
...Time Baby is the last son of an extinct race of time giants?
Helping Out
There are 1,680 articles and we are still growing since this wiki was founded on February 10, 2011. The wiki format allows anyone to create or edit any article, so we can all work together to create a comprehensive database for the Gravity Falls franchise. Don't forget to visit this Wiki's guidelines before editing. To write a new article, just enter the title in the box below.

Featured Article.
"Taking Over Midnight," also written as "T8king Over Midnight," is a song by &ndra and covered by "Love Patrol Alpha," (Mabel, Dipper, and Stan Pines) in "Scary-oke." In order to get rid of the zombies that Dipper summoned, the trio needed to sing a perfect three-part harmony which would shatter the zombies' skulls. Mabel's idea involved singing this song's karaoke version, something she had been looking forward to doing with her family since the beginning of the episode. (Read more...)
Good Fortunes
Click
to get another fortune.
Affiliates
We are currently building communities in the following languages: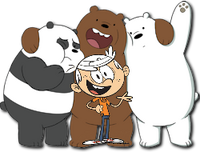 Community content is available under
CC-BY-SA
unless otherwise noted.