Gravity Falls Vinylmations are a variation of a brand of Vinylmations sold at Disney theme parks, select Disney stores, and the online Disney store. They are 1.5", 3", and 9" vinyl collectibles. The name Vinylmation is a combination of the words "Animation" and "Vinyl." The figures are all shaped with the body of Mickey Mouse, but have different themed markings, colors, and patterns.
Mabel Pines Eachz set
On July 11, 2014 Steven Miller, the Disney Merchandise Communications Manager, posted a preview of the first set of Gravity Falls Vinylmations. The Eachz set is a limited edition totaling at 1,500. The regular will have 1,350 (left), and the variant will have 150 (right).[1] They are expected to appear at Disney Parks in the upcoming fall. [2]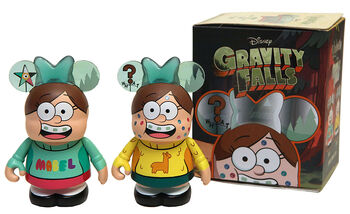 Vinylmation Animation Series 5
On July 22, 2014, Thomas Scott, a graphic designer who helps create the Vinylmations, tweeted that the third Gravity Falls Vinylmation was to be released in the fifth Vinylmation Animation series.[3] The Vinylmation was to once again be of Mabel, this time in her signature shooting star sweater. It was released on August 22, 2014.[4] After the set came out a variant of Mabel in her "Mabel" sweater from the theme song was found.
Vinylmation Gravity Falls Series
The Gravity Falls Vinylmation set was released on the Disney Store site on November 28, 2014 including eight definite figures and some possible variants. In the set there is Mabel (hamburger sweater), Dipper, Stan, Soos, Gideon, a Gnome, Waddles, and a mystery figure of Bill Cipher. The variants currently known are angry Dipper (star hat), Business Waddles, and Boss Mabel.
External links
References