Gravity Falls Gossiper is a failing unpopular newspaper that is run by Toby Determined. It is run out of a small building in the town of Gravity Falls. It has a closet, in which Toby hides a cardboard cutout of Shandra Jimenez.
History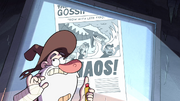 The Gossiper once reported on Old Man McGucket's homicidal pterodactyl-tron he built when his wife left him.[1]
Dipper and Mabel got Sheriff Blubs and Deputy Durland to go to the Gossiper's headquarters to arrest Toby for murdering Wax Stan. However, Toby was able to prove his innocence by showing them security footage of Toby kissing a cutout of Shandra Jimenez at 10:00, Saturday, the time of the murder.[2] The place is seen again when Toby called Dipper to meet him at 412 Gopher Road, as part of a trap set by Gideon Gleeful, in return for Shandra Jimenez's phone number.[3]
In Dipper's story "Voice Over," Stan is reading the paper, when Mabel asks him if he'd "ever kissed a pig before." He is also seen reading another newspaper to avoid eye contact with Dipper and Mabel in Mabel's story "Trooth Ache."[4]
During Summerween, Dipper, Mabel, Candy Chiu, Grenda, and Soos go to the Gossiper's headquarters while going trick-or-treating. They see Toby, whose own face horrifies them more than his monster mask.[5]
The Gossiper's horoscope for Sheriff Blubs once predicted a bearded witch would chase a talking pig. Which the Sheriff and Deputy Durland believed true when the latter spotted Soos (in Waddle's body) being chased by a hungry Old Man McGucket.[6]
Location
The Gravity Falls Gossiper headquarters is located in a small wooden building near the Tavern and a red "No Vacancy" building. It is notably smaller than the other buildings and it has a sign that reads, "Gravity Falls Gossiper."
Known Articles
Sightings
References
Community content is available under
CC-BY-SA
unless otherwise noted.