Gravity Falls: Legend of the Gnome Gemulets[1] is an upcoming platformer video game based off of the American animated television series Gravity Falls in development by Ubisoft for the Nintendo 3DS. It was leaked[2] ahead of Comic-Con via the Brazilian Ratings Board. Various gaming related outlets including My Nintendo News reported on the leak.[3] Later the day of the leak, Manzi deYoung, Alex Hirsch's girlfriend verified[4] the leak as being factual. Judging by her word, the game has been in development for at least a year.
Announcement
On July 9, 2015, the game was officially unveiled via Ubisoft's official blog, alongside a teaser trailer. The game has also been confirmed to be utilizing the UbiArt framework engine to capture the art direction and aesthetic of the series. The engine is utilized to a similar effect in such games as Rayman Origins, Child of Light and Rayman Legends.[5]
Gallery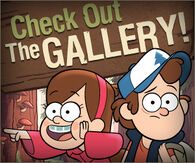 Click here to view this page's gallery.
References
Community content is available under
CC-BY-SA
unless otherwise noted.