Gravity Falls, Oregon is a mysterious sleepy place where many supernatural things happen. Grunkle Stan lives in and runs the Mystery Shack, a tourist trap which overcharges unlucky visitors for a glimpse at the world's most bizarre museum. Dipper and Mabel Pines are sent to live with him for the summer, which leads them to discover some of these mysterious happenings.
Gravity Falls was named by the 8½th president, Quentin Trembley, when he "discovered" it by falling off a cliff on his horse that he was riding backwards. However, this fact was covered up by the U.S. government, and instead Nathaniel Northwest was made the town founder.
Known Residents
Known Places
412 Gopher Road - where 'Lil Gideon's family's factory is located at.
Arcade - a building that has arcade machines from the 70's-90's.
Barrels & Crates, Incorporated - company building where they make barrels and crates.
Circle Park - place where Robbie tells Dipper to go to fight after he broke Robbie's phone.
Dusk 2 Dawn - an abandoned mini-mart where teenagers hang out.
Gleeful's Auto Sale - a car sale owned by Gideon's father, Bud Gleeful.
Gravity Falls Cemetery - the local cemetery in Gravity Falls. It was here that Quentin Trembley was buried and covered in peanut brittle. This is also the place where Mabel met Norman.
Gravity Falls Dump - appears once when the 90's teenagers are seen depositing "loser candy" into the dump.
Gravity Falls Forest - a forest near (or surrounding) the Mystery Shack. Dipper found the book, 3 in a secret compartment in a clearing of the forest. This is where Dipper encountered the manotaurs.
Gravity Falls Gossiper - a building where the Gravity Falls Gossiper news paper is made.
Gravity Falls History Museum - the museum is where Dipper and Mabel went during their adventure to uncover the conspiracy around Nathaniel Northwest , and did so by sitting on a chair upside-down.
Gravity Falls Library - library where Dipper and Mabel study the Northwest conspiracy.
Gravity Falls Water Tower - the highest man-made structure in Gravity Falls. A picture of an explosion Robbie drew is visible on the face of the tower.
Greasy's Diner - home of Lazy Susan, a stereotypical American diner, first seen in "Tourist Trapped."
Lake Gravity Falls – the local lake. It was first seen in "The Legend of the Gobblewonker."
Medieval Mattress Store - a store that sells materesses
Scuttlebutt Island - located in the middle of Lake Gravity Falls home of The Gobblewonker, and beavers.
Skull Fracture - biker's club.
Smokey Joe's All You Can Eat- a restaurant that Robbie runs past through while Rumble is chasing him.
Summerween Superstore- where you get decorations, costumes and candy for Summerween.
Tavern - a tavern next to the Gravity Falls Gossiper.
Tent of Telepathy – a place owned by 'Lil Gideon that is a competitor of The Mystery Shack.
The Club - fancy restaurant where Dipper broke up with Gideon for Mabel.
The Multi-Bear's Cave - home of the Multi-Bear.
The Mystery Shack – a tourist trap, run by Grunkle Stan, which overcharges unlucky visitors for a glimpse at the world's most bizarre museum.Its adress is 618.
Gallery
Gallery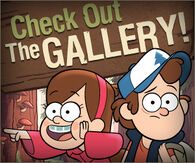 Click here to view this page's gallery.
References
References
Community content is available under
CC-BY-SA
unless otherwise noted.