Gompers the Goat[1] is a goat who lives in the Gravity Falls Forest right next to the Mystery Shack. The goat usually finds his way inside the Mystery Shack, and at one point, ate all of the household's tin cans. He once grabbed a gnome and leaped off.
History
Gompers first appears in "Tourist Trapped", standing on Dipper Pines's bed and nibbling on Mabel Pines's sweater. Gompers later nibbles on the pages of book 3 at the forest. At the end of the episode, the goat picks up a trapped gnome in it's mouth and runs off with him. The goat appears next in "Headhunters", appearing a couple of times outside the Mystery Shack during the time of the murder of a wax sculpture of Grunkle Stan. It is also mentioned to be the culprit of who ate the Pines' family's tin cans.
Gompers is seen on the roof of the Mystery Shack in "The Inconveniencing" and watches a wedding ceremony during Pioneer Day in "Irrational Treasure".
In "Boss Mabel", Gompers is seen in the end credits where Stan is being lazy and dancing at the same time, he then appears and takes Stan's Fex, which they have a tug of war over. 
Trivia
Gompers has horizontal irises like real life goats, as opposed to most cartoon goats, who are depicted as having normal irises.
Sightings
Gallery
Gallery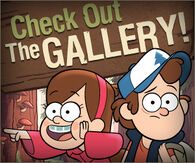 Click here to view this page's gallery.
References
References
Community content is available under
CC-BY-SA
unless otherwise noted.