""Fixin' It with Soos: Cuckoo Clock"[1] is the 13th Gravity Falls short  to air between Season 1 and Season 2. It originally aired on March 28, 2014, on Disney XD Italy.[2] It premiered on Disney XD on April 22, 2014.
Official overview
Soos fixes up a Cuckoo Clock and gives it an ultra-awesome remodel.[3]
Synopsis 
After the intro, the short begins with Soos saying that Fixin' it with Soos is the only program created and edited by him on his very own computer, which he demonstrates by giving a computer-generated hand a high five. He then shows a broken cuckoo clock Stan told him he broke by accident (having actually hit it repeatedly with a baseball bat because it wouldn't stop cuckooing.) after poorly repairing the clock, he decides to add decorations. Mabel walks in and suggests leopard print, while Soos adds a second home "so the cuckoo can live in style." This goes on with them adding more and more weird and cool stuff, so when they show it to Stan, the clock is barely recognizable and doesn't even work, them having added so much cools stuff they thought he wouldn't notice. However, Stan give them a 10 out of 10 rating anyway because it doesn't make an annoying cuckoo noise anymore. The short ends with CGI explosions and Soos saying that next time, he'll fix the computer he broke "making these awesome CGI effects possible," and said computer explodes in the background.
Cast
Production notes
:See also: List of allusions and List of goofs.
Songs featured
Series continuity
Soos hosts his show in the new break room he received in "Carpet Diem" and decorated it with:
The room with Soos' computer has a picture of Abuelita on the wall.
Trivia
Soos edits his Fixin' It with Soos series using a trial version of AutografixMT,
Soos' Awesomeometer says:
10. So Cool, It's Hot!
9. Eagle With Shades
8. So Smooooooth
7. Mo Betta Baby
6. That's More Like It
5. Good Job
4. That'll Do
3. I've Seen Better
2. Get Thee Hence
1. Not Cool, Bro
Gallery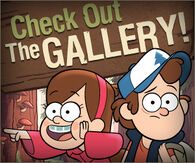 Click here to view this page's gallery.
References
Community content is available under
CC-BY-SA
unless otherwise noted.