Gravity Falls: Don't Color This Book! It's Cursed! is a coloring book released by Disney Press released on July 18, 2017.
Description
The Pines twins find themselves on a prismatic adventure when Dipper gets trapped in a magical coloring book. The only way out is for Mabel to color him to freedom with the help of a strange new friend named Chamelius PenDraggin. The more Mabel colors, however, the more things start to go awry. Can coloring be an act of bravery? Can great shading elevate you to heroic heights? Can orange save the day? Find out in this official Gravity Falls coloring book!
Soos Cast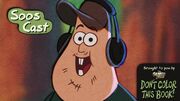 Included in the book is a QR code which leads to a video file on http://disneyxd.com/colorcoded. The video is an audio podcast hosted by Soos with Grunkle Stan as a guest star.
Gallery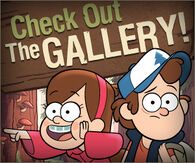 Click here to view this page's gallery.
External links
Community content is available under
CC-BY-SA
unless otherwise noted.