Disney Channel Holiday Starglobe is a game on the Disney Channel website using a few elements from its current run of shows to create and play with virtual snow globes. It is part of the site's Fa-La-La-Lidays event and was the last "gift" to be revealed to fans who visited the site.
Gameplay
Choose from a list of characters on the left. Click and drop in the snow globe. Only one character can be chosen. On the right, open the "Scenes" tab and select a background. Click on the globe and shake to make it snow.
List of scenes
New York
Snowman
Pyramids
Effiel Tower
Stonehenge
Easter Island
Mount Rushmore
Gingerbread House
Matterhorn
Skate Park
Sleigh
Concert Stage
Holiday Tree
Gravity Falls characters
Greeting Cards
Gallery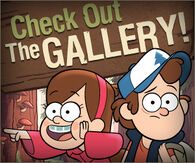 Click here to view this page's gallery.