"Disco Girl"[1] is a Top 40 hit song by Icelandic pop group BABBA, that both Dipper and the Multi-Bear are fans of.[2]
History
In "Dipper vs. Manliness," Stan catches Dipper singing the song to his reflection in the bathroom in a flashback to earlier in the summer. Later, the Multi-Bear requests that he dies listening to the song, and reveals his rivalry with the Manotaurs is due to his liking towards it. After singing the chorus together, Dipper is persuaded to change his mind about becoming a man, accepting his own form of masculinity.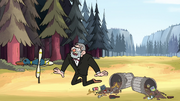 Later in "Land Before Swine," the tape of the song is seen among the trash of a knocked over garbage can.
Lyrics
Disco girl
Coming through
That girl is you
OOH OOOH, OOH OOOH
Sightings
Trivia
The band and song are a spoof of the Swedish pop group, ABBA and their song "Dancing Queen."
References