April 14, 2012 - June 15, 2012
Featured Character
"When life gives you lemons, extract the juice and use it to draw a treasure map in invisible ink. That really works! Seriously!"
—Dipper on lemons

Smart and conventional, Dipper Pines can't wait to leave adolescence in the rear view mirror. A born adventurer at heart, Dipper can't sit still, and is always looking for the next riddle to solve. His scrupulous attention to detail comes in handy when he is off figuring out the mystery of the day, but sometimes his overzealousness leaves others questioning his credibility. He is wise beyond his years, and his refusal to sit still when there are puzzles to be solved leaves him restless in everyday situations. (Read more...)
June 16, 2012 - June 22, 2012
Featured Character
[[File:S1e2 mabel punch.jpg|left|110px]]

"When life gives you lemons, draw faces on those lemons and wrap them in a blanket. Ta-daaa! Now you have Lemon babies."
—Mabel on lemons

Mabel Pines is a buoyant and energetic optimist who skips through life with a braces-filled smile and an assortment of extremely colorful knit sweaters. It is her outgoing personality and fearless curiosity that comes in handy when Dipper needs help solving a mystery, even if she isn't always aware of it. Mabel lives in a world of pre-teen novels, and her fixation on finding her one true love occasionally lands her in sticky situations which ultimately require her brother's help. Still, despite the weirdness in Gravity Falls, Mabel is always a "glass half full" kind of girl. (Read more...)
Featured Cast

Alex Hirsch is the creator, executive producer, and director of Gravity Falls. He voices Grunkle Stan and Soos. He is also the creative consultant of Fish Hooks, where he portrays Clamantha, and was the writer and storyboard artist for The Marvelous Misadventures of Flapjack. He graduated from the California Institute of the Arts (CalArts) in Los Angeles County, California, in 2007. (Read more...)
June 23, 2012 - June 29, 2012
Featured Character

"We understand.. We will never forget you Mabel.... Because we are going to kidnap you!"
—Jeff in Tourist Trapped

The Gnomes appear in the episode "Tourist Trapped" where they capture Mabel Pines to make her their queen. Dipper saves his sister from them. The book, 3, classifies them as "little men of the Gravity Falls Forest." There were no known weaknesses until Dipper and Mabel blew the gnomes away with a leaf blower. The gnomes were first disguised as "Norman" whom Dipper believed was a zombie. Mabel has a crush on them because she thought that "Norman" was a vampire. Their leader is Jeff. In the book 3, their creature number is 24. (Read more...)
Featured Cast

Kristen Schaal (born January 24, 1978) is an American actress, model, writer and comedian, best known for her role as Mel in the HBO series Flight of the Conchords, as Louise in Bob's Burgers and as a contributor on The Daily Show. She is now starring in Gravity Falls. Schaal was born in Longmont, Colorado, to a Lutheran family of Dutch descent. She was raised on her family's cattle farm, in a rural area near Boulder. Her father is a construction worker and her mother is a secretary. Schaal also has a brother who is three years older. (Read more...)
June 30, 2012 - August 26, 2012
Featured Character

Soos is a portly and lovable employee whose desire to be where the action is makes him an excellent resource for the twins when they need a ride about town. He likes to be in the center of the action, whether that's tagging along on Dipper's and Mabel's adventures or helping Grunkle Stan with his latest scheme. Aside from the kids, he's the only other person who sees all the strange things happening in Gravity Falls. (Read more...)
Featured Cast
Jason Morgan Ritter (born February 17, 1980) is an American actor, son of the late actor John Ritter and actress Nancy Morgan. Ritter is probably best known for his role as Kevin Girardi in the television series Joan of Arcadia and as Sean Walker in the NBC series The Event. Ritter was born in Los Angeles, California, the son of Nancy Morgan and the late John Ritter, and the grandson of musician/actor Tex Ritter and Dorothy Fay. His stepmother is Amy Yasbeck. He has three siblings. (Read more...)
August 26, 2012 - September 2, 2012
Featured Character
Wendy is an unusually tall high school girl with a part-time job at the Mystery Shack. Dipper has a crush on her. In the perspective of Dipper and Mabel, hanging out with Wendy can be fun, until her rambunctious teenage friends show up. She is voiced by Linda Cardellini, and is a supporting character in the show. She is first seen when Grunkle Stan asks her to put signs up in the woods. She is seen reading a magazine, and says it's too far away for her to do.(Read more...)
Featured Cast

Linda Edna Cardellini (born June 25, 1975) is an American television and film actress. She is best known for her roles as high school student Lindsay Weir on Freaks and Geeks, as Velma Dinkley in the live-action Scooby-Doo films, and as Samantha Taggart on ER. She voices the character Wendy in Gravity Falls. Cardellini was born in Redwood City, California, the daughter of Lorraine (née Hernan) and Wayne David Cardellini. She made her first public appearance at the age of 10, when she sang in a school play. Subsequent to that performance, she acted in several school productions, and started attending drama classes. She graduated from nearby Mountain View's Catholic St. Francis High School in 1993, then moved to Los Angeles to seek roles in television and film. (Read more...)
September 2, 2012 - September 12th, 2012
Featured Character
[[File:Pacifica.png|left|110px]]

Pacifica Northwest is the most popular girl in Gravity Falls, Oregon. She is the great-great-granddaughter of the supposed founder of Gravity Falls, Nathaniel Northwest. However, he is soon revealed to be a fraud. Pacifica first appears in Double Dipper, where she competes with Mabel for the title of Party Queen at the Mystery Shack party. The crowd clearly favors Mabel; however, she is able to bribe and threaten her way to the top. She then leaves with a large part of the crowd to go to the after-party on her parents' boat.

In Irrational Treasure, she makes a speech for Pioneer Day, and insults Mabel for her silliness. She taunts Grunkle Stan when he's put in the stockade. She is later informed by Dipper that her great-great-grandfather, supposedly the founder of Gravity Falls, was a fraud. This causes her great worry, as it would discredit her entire family.(Read more...)
September 12th, 2012 - March 10th, 2013
Featured Character

Waddles is Mabel's pet pig. She won him at the Mystery Fair in "The Time Traveler's Pig. Waddles' first appearance is with Mabel in the opening credits, where Mabel is hugging him. His official series debut is in "The Time Traveler's Pig", where Mabel wins him in a "Guess the Critter's Weight" game. She looked for a suitable pig when one said something that is either "Mabel" or "Doorbell." The pig, originally named "15-Poundie", was renamed Waddles (because he waddles when he walks). The bond between Mabel and Waddles is strengthened each time the twins travel through time, resulting in her spiraling into depression when she loses him to Pacifica Northwest in the only successful Dipper timeline. After realizing how much Waddles means to her, Dipper goes back in time and sacrifices his chance with Wendy to allow Mabel to re-win Waddles. To show her appreciation, Mabel sends Waddles to retrieve the caramel apple Robbie is sharing with his new girlfriend, Wendy.(Read more...)
(A voted cast member turned out to not be featured on the wiki, and therefore 'Keith Ferguson' was featured until the next week.)
March 11, 2013 - June 26, 2013
Featured Character

"Dipper, please, this is you you're talking about."
—In "Double Dipper"
Tyrone is Dipper's first clone, excluding the arm, created by Dipper in the episode "Double Dipper." Tyrone is created to help Dipper impress his crush, Wendy. Dipper was going to call him "Number 2", but he refuses to be called that and then suggests "the name he always wanted", Tyrone. He works at the ticket booth so Dipper can execute his plan to get Wendy to like him. When Robbie shows up, the two devise a plan to distract him by having two more clones steal his bike. (Read more...)
June 27, 2013 - July 31, 2013
Featured Character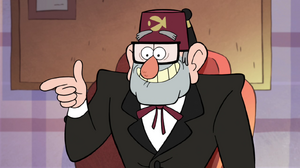 Stanford "Stan" Pines, better known as Grunkle Stan, is Mabel and Dipper's sly, cranky great uncle. He runs the Mystery Shack, a tourist trap full of questionable "oddities." While he's giving tours or sleeping on the couch, Dipper and Mabel are usually sneaking out to explore the town's secrets, though Grunkle Stan may have some of his own mysterious secrets. (Read more...)
August 1, 2013 - September 4, 2013
Featured Character
"Well, first I just hootynanied up a bio mechanical brain-wave generator, and then I learned how to operate a stick shift with my beard."
—In "The Legend of the Gobblewonker"
Fiddleford H. McGucket, better known as Old Man McGucket, is an elderly resident of Gravity Falls, a part time inventor and the self-proclaimed "local kook." (Read more...)
September 5, 2013 - November 2, 2013
Featured Character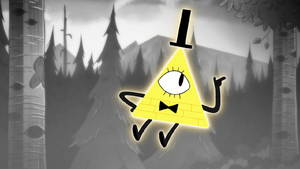 "Remember! Reality is an illusion, the universe is a hologram, buy gold, bye!"
—In "Dreamscaperers"
Bill Cipher is a dream demon that can enter a person's subconscious. He was summoned by Gideon Gleeful in order to retrieve Stan Pine's safe combination. (Read more...)
Featured Cast

Mark "Thurop" Van Orman (born on April 26, 1976 in Norfolk, Virginia) is an American TV writer, director, producer, animator, storyboard artist, storyboard director, singer, and voice actor. He is the creator of the animated series The Marvelous Misadventures of Flapjack, in which he voices the titular character, Flapjack. He voices Gideon Gleeful on Gravity Falls. (Read more...)
November 3, 2013 - December 5, 2013
Featured Character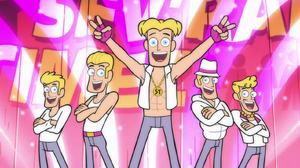 Sev'ral Timez is a popular boy band made up entirely of "perfect boy" clones. Its members are Greggy C, Creggy G, Leggy P, Chubby Z, and Deep Chris. (Read more...)
Featured Cast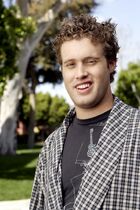 Todd Joseph Miller (born on June 4, 1981), better known as TJ Miller, is a profesional American actor and stand-up comedian. He voices Robbie on Gravity Falls. (Read more...)
December 6, 2013 - December 31, 2013
Featured Character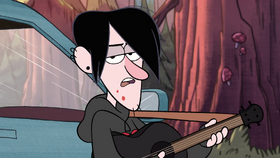 Robbie is a sarcastic, arrogant, goth teenager with a bad attitude who was Wendy's ex-boyfriend and serves as Dipper's biggest rival over her affections. (Read more...)
Featured Cast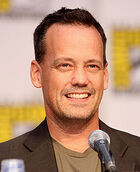 Dee Bradley Baker (born on August 31, 1962) is an American actor, voice actor, singer, former game show host, and comedian. He is well known for his portrayals of various animals in his voice acting. He is noted for his long-running-role as Klaus Heissler and Kisses in American Dad! (Read more...)
January 1, 2014 - February 28, 2014
Featured Article
"Our uncle transformed his house into a tourist trap he called 'The Mystery Shack.' The real mystery is why anyone came."
—Dipper Pines
The Mystery Shack is a tourist trap in Gravity Falls, which overcharges unlucky visitors. This museum is owned and inhabited by Grunkle Stan, and is the main house for Dipper and Mabel throughout the series. It is also their temporary home for the summer. (Read more...)
Featured Crew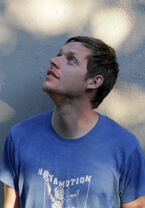 Brad Breeck is the series composer for Gravity Falls. Among the many pieces of music he's written for the show is the theme song, "Disco Girl," and "Don't Start Un-believing." (Read more...)
March 1, 2014 - May 21, 2014
Featured Article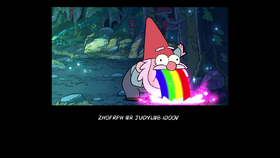 There is a cryptogram during the credits of each episode. They use Caesar ciphers, Atbash ciphers, and the A1Z26 cipher. Episodes 1-6 use the Caesar cipher, Episodes 7-13 use Atbash ciphers, Episodes 14-19 use the A1Z26 cipher, and Episode 20 uses a Combined cipher (a combination of all three ciphers). Book 3 contains a Symbol substitution cipher. (Read more...)
Featured Crew
Joe Pitt was a director and character designer on Gravity Falls. His name is the inspiration for Pitt Cola. He has also worked on The Princess and the Frog, Wreck-It Ralph, and Aqua Teen Hunger Force Colon Movie Film... (Read more...)
May 22, 2014 - July 9, 2014
Featured Article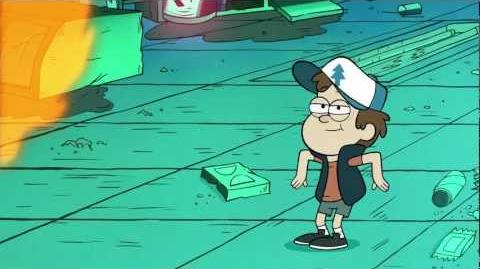 The "Lamby Lamby Dance" is a dance and song that Dipper learned how to perform for his family. It involves the dancer wearing a lamb costume, and singing a small song... (Read more...)
Featured Crew
Matt Chapman (born November 1, 1976) is a writer and voice actor on Gravity Falls. Among others he's voiced Mermando, and wrote many of the shorts... (Read more...)
July 10, 2014 - August 27, 2014
Featured Article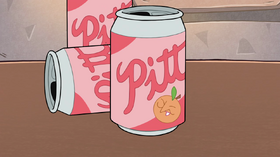 Pitt Cola is a popular soft drink in Gravity Falls. Stan and Dipper are frequently seen drinking it, and empty cans of it can be seen around the Mystery Shack. One of its slogans is: "It's the Pitts!"... (Read more...)
August 28, 2014 - September 29, 2014
October 1, 2014 - October 31, 2014
Featured Article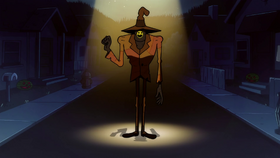 The Summerween Trickster is a mysterious creature part of Gravity Falls local legend. He's said to come to children who do not show proper respect to the Summerween spirit. (Read more...)
November 1, 2014 - March 11, 2014
Featured Article.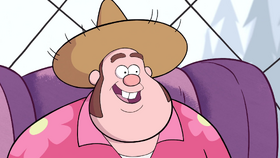 Buddy "Bud" Gleeful is the father of Gideon Gleeful and the accompanist at the Tent of Telepathy. In addition to owning a factory that produces Li'l Gideon merchandise, Bud is a used car salesmen at Gleeful's Auto Sale.

March 12, 2014 - July 31, 2016
Featured Article.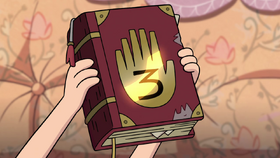 Journal #3 is a cryptic journal owned by Dipper Pines. It is the third and presumably final installment in a series of books preceded by both Journal #1 and Journal #2. It contains an encyclopedic collection of information on the variety of paranormal and supernatural creatures living in Gravity Falls. (Read more...)
August 1, 2016 - September 29, 2016

Featured Article.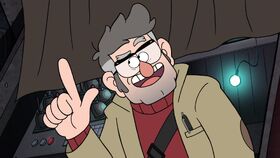 Dr. Stanford "Ford" Filbrick Pines, Ph.D., also known as The Author, is a paranormal investigator who came to Gravity Falls, Oregon, to study the huge concentration of supernatural activity in and around the town. After spending years of cataloging his research in a series of journals, he disappeared into an alternate dimension. His writings were left as the only evidence of his existence. (Read more...)
October 1, 2016 - April 2, 2017

Featured Article.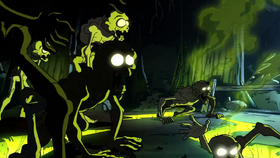 The Undead are one of the many creatures of Gravity Falls, Oregon. It is said that due to their pale skin and bad attitudes, they are often mistaken for teenagers. Initially thought to be invincible, they can be destroyed by singing a three-point harmony. (Read more...)
April 3, 2017 - June 3, 2017

Featured Article.
A list of allusions to works of fiction, people, places, events, and other cultural touchstones in the series Gravity Falls. (Read more...)
June 4, 2017 - September 17, 2017
September 18, 2017 - March 27, 2019

Featured Article.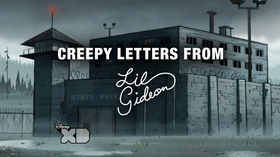 Creepy Letters from Lil' Gideon is a series of promotional advertisements for the series, Gravity Falls, is currently being aired on Disney XD. The promos feature a letter sent from Gideon Gleeful via Gravity Falls Maximum Security Prison, usually addressing a member of the Pines family or town in general. (Read more...)
March 28, 2019 - ???

Featured Article.
"Taking Over Midnight," also written as "T8king Over Midnight," is a song by &ndra and covered by "Love Patrol Alpha," (Mabel, Dipper, and Stan Pines) in "Scary-oke." In order to get rid of the zombies that Dipper summoned, the trio needed to sing a perfect three-part harmony which would shatter the zombies' skulls. Mabel's idea involved singing this song's karaoke version, something she had been looking forward to doing with her family since the beginning of the episode. (Read more...)
Community content is available under
CC-BY-SA
unless otherwise noted.