Alexander "Alex" Robert Hirsch (born June 18, 1985) is the creator and executive producer of the American animated television series Gravity Falls.
He voices two of the main characters, Grunkle Stan and Soos. He also voices supporting and recurring characters such as: Old Man McGucket, Bill Cipher, the gnomes, and many others. He has four siblings: his twin sister, Ariel Hirsch, and his half-sisters, Lauren Hirsch.[2], Katrina Hirsch[3], and Jessica Hirsch.
He places many of his real-life experiences in the show, such as living in Piedmont, California and trick-or-treating with his sister (Ariel) as cats. He also based the series off the summers he spent camping with his great aunt.[citation needed] Both he and his sister wished they would go on the adventures that Mabel and Dipper go on in the show. He based Mabel on his twin sister, Ariel Hirsch, Grunkle Stan off of his Grandpa Stan, and based the entire series loosely on his childhood summers. He gave Mabel a pet pig because his sister had always wanted one when she was a child.
Writing credits
Unnamed episode (pilot)
Outline credits
Roles in Gravity Falls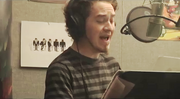 Other work
Alex Hirsch was the creative consultant for Fish Hooks, which he developed for television alongside Maxwell Atoms, where he portrayed Clamantha, her father, Fumble, one of the fish police and a Ferret. He was also a writer and a storyboard artist for The Marvelous Misadventures of Flapjack. He also provided the voice of Officer Concord the Juice Time Juice Box Flavor Cop in the "Terrifying Tri-State Trilogy of Terror" episode of Phineas and Ferb, which is also on Disney Channel.[10][11] He also provided additional voices to the video game Disney Infinity: Marvel Super Heroes in late 2014. He also voiced Toby Mathews in the Rick and Morty episode, "Big Trouble In Little Sanchez."
Early life
Alex Hirsch was born and raised in Piedmont, California, and he graduated from the California Institute of the Arts (CalArts) in Los Angeles County, California, in 2007. He also enjoyed going to Oregon, and went there often. He was very fond of The Simpsons as a child, and cited this as one of his main influences. After watching the episode Bart's Comet he attended child therapy. Shortly after graduating, he worked at the digital entertainment studio JibJab and was a writer/storyboard artist on The Marvelous Misadventures of Flapjack. He also served as a creative consultant and helped develop the hit Disney Channel animated series, Fish Hooks, and voices the character Clamantha in the series. Hirsch chose Oregon as the setting for Gravity Falls after spending a summer there during college working for the animation studio Laika.[12]
Trivia
In Spring 2007, he created a short film called Off the Wall, which was one of his student films at CalArts. Mike Moon, an animation executive at Disney eventually saw it. Impressed, he asked Alex to pitch the network a television series, which eventually lead to Gravity Falls.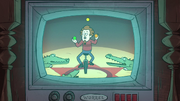 Hirsch has appeared a few times in the show as himself.
Alex's college roommate was the show's art director, Ian Worrel.[13]
Alex guest voiced Officer Concord for a special Phineas and Ferb Halloween episode.[14]
Alex has joked about the rumors that he is hiding occult symbols in the show on multiple occasions, because they are hidden in plain sight.
Alex has a habit of tweeting misleading "Facts" to trick some fans for fun
Alex prefers Nintendo over Sega, and his favorite Nintendo game is Kirby's Pinball Land.[15][16]
Alex named one of the Manotaurs after his full size adult taxidermy buffalo "Beardy"[citation needed] which he keeps in his office at Disney and insists people sit on when they take tours.[17]
The number 618 that appears throughout Gravity Falls is a reference to his birthday, June 18th (otherwise 6/18).
He created the "McGucket Hoax" by leaking a fake photo of Old Man McGucket writing the Journals, which fooled a lot of people into thinking that Old Man McGucket was the Author of the Journals.
Hirsch is skilled at bird calling and even went on the Late Show with David Letterman at the age of fifteen to share his talent.[18]
Hirsch has a set of rules regarding Dipper and Mabel's relationship which were created at the start of the series due to the writers frequently and incorrectly assuming that the two didn't get along. So far only two rules were revealed which were,

The first rule is that "the kids like each other. no matter how much they get on each others nerves, this never changes"
His Grandfather's ashes were illegally spread in a Vegas casino women's room so he could "see the ladies undress forever"[19]
Articles and interviews
| Publication | Date | Title/Link |
| --- | --- | --- |
| Animation Magazine | Jun 2, 2012 | Tales from the Weird Side |
| MTV Geek | Jun 15, 2012 | Interview: Alex Hirsch Returns To His Weird, Monster-Filled Childhood In Disney's 'Gravity Falls' |
| Collider | July 7, 2012 | Creator Alex Hirsch Talks GRAVITY FALLS, How He Ended Up Making a Show for the Disney Channel, His Love for TV Animation and More |
| GamerLive.TV | Aug 4, 2012 | Alex Hirsch and Jason Ritter Talk Disney Channel Gravity Falls |
| New York Times | Aug 17, 2012 | An Undercurrent of Darkness, Even at Disney |
| TV Guide | Aug 22, 2012 | Watch My Show: Gravity Falls' Alex Hirsch Answers Our Showrunner Survey |
| Comics Alliance | Aug 24, 2012 | Alex Hirsch on 'Gravity Falls,' Mabel's Sweater Collection and TV's Fear of Sincerity |
| A.V. Club | Sep 28, 2012 | Comedy Showrunners Week: Alex Hirsch on the real in the unreal of Gravity Falls |
| Media Mike's | Apr 12, 2013 | Alex Hirsch talks about recent trip to get inspiration for Disney's "Gravity Falls" |
| Time Warner Cable - On Set | May 10, 2013 | On Set Episode 16: Phineas & Ferb and Gravity Falls |
| Animation Magazine | Jun 10, 2013 | A Day in the Life of Alex Hirsch |
| HappyCool | Aug 10, 2013 | Alex Hirsch Interview - Gravity Falls Season 2 |
| Young Hollywood | Aug 19, 2013 | "Gravity Falls" Cast's Secret Message from D23 |
| A.V. Club | July 31, 2014 | Gravity Falls' Alex Hirsch previews the show's new season by recapping its first |
| Vox | Aug 1, 2014 | Disney's Gravity Falls is one of the best kids shows on TV. Here's how it got that way. |
| Time | Aug 1, 2014 | Disney's Gravity Falls Creator on How to Create a Show for All Ages |
| Animation Magazine | Aug 19, 2014 | 'Falls' Inevitable Return |
| D23 | Mar 6, 2015 | Gravity Falls Creator/Executive Producer Alex Hirsch—and Grunkle Stan—Answer D23's Questions…and Yours! |
| Huffington Post | Mar 9, 2015 | Is Gravity Falls' Grunkle Stan 'Not What He Seems'? Disney XD Episode Answers Big Questions Tonight |
| A.V. Club | Mar 11, 2015 | Gravity Falls' Alex Hirsch on his show's big cliffhanger |
External links
References
V - E - H - D
Gravity Falls Staff
Creator/Executive Producer
Alex Hirsch