618 is a recurring number in Gravity Falls. It is based off the date June 18th, which is the birthday of series creator, Alex Hirsch and his twin sister Ariel Hirsch.
618 Instances
The following are instances 618 is used in the show:
The show's main production code is G618.

e.g. An episode production code starts with 618, such as "618G-107" for "Tourist Trapped."

The Mystery Shack's address is 618, Gopher Road.[1][2]
On Tumbleweed Terror the number in the barrel is 618.[6]
Gideon Gleeful's school ID number is 618.[7]
An arcade game in Dipper and Mabel's room has the number 819 on it, which, if turned upside down, is 618.
One of the blocks a baby chews on in Baby Fights has the numbers 6, 1, and 8.[8]
The introduction page of book 3 has the date June 18th, Alex Hirsch's birthday and the source of 618.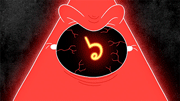 When Stan was in a Columbian prison, his ID number was S618.[9]
The number 816, the number 618 backward, appears multiple times on Bill Cipher's page in 2.
In "Dreamscaperers," when Bill becomes angry his eye flashes six symbols. The third, fourth, and fifth in the sequence are Thai numerals that spell out 6 1 8.
References