412 Gopher Road is a warehouse owned by the Gleeful family located in Gravity Falls, and manufactures a variety of merchandise advertising Gideon Gleeful's Tent of Telepathy.
History
In "The Hand That Rocks the Mabel," Gideon and Mabel sit on the roof, admiring the view of the town before she reluctantly accepts an invitation to a date. Gideon later lures Dipper into the warehouse following him and Mabel's breakup, accusing Dipper of keeping them apart and attacking him with his merchandise via the mystic amulet. Mabel soon intervenes and saves her twin, officially ending her short relationship with Gideon.
Architecture
Exterior
The warehouse rests on a cliff overlooking Gravity Falls and has one known entrance and exit, which is a large set of wooden doors surrounded by a brick wall. An industrial fan rests to the left of the entrance, as well as three large glass windows on both adjacent walls with cracks and damage in the glass. The roof is shingled and lined with railings, and a smokestack rests in the top left corner.
Interior
The factory consists of only one large room that occupies the entire building.
Warehouse
The warehouse is a large room inhabiting the entire space of the building, filled with tables and boxes of merchandise advertising Gideon and the Tent of Telepathy. A large, swivel chair rests in the center of the room, along with a heater located to its left.
Sightings
Gallery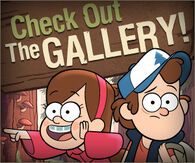 Click here to view this page's gallery.