There has been a lot of back-and-forth about Deputy Durland and Sheriff Blubs and the nature of their relationship.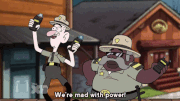 It is never explicitly stated that they share a romantic relationship, but there seems to be a decent amount of evidence. Until Alex Hirsch or another official source says otherwise, we do not know the status of their relationship for sure.
To settle this dispute (for now) I have added that it is implied that they are in a romantic relationship to the "Character Revelations" section of "Weirdmageddon 3: Take Back The Falls."
You are welcome to discuss the nature of their relationship on the forums, but please stop adding it to their pages. If you wish to discuss this further with me, feel free to leave a message on my wall.